GSO vs. SEO vs. SEM vs. PPC – What's Best for Your Business?
This brief guide compares Generative Search Optimization (GSO), Search Engine Optimization (SEO), Search Engine Marketing (SEM), and Pay-Per-Click (PPC) advertising: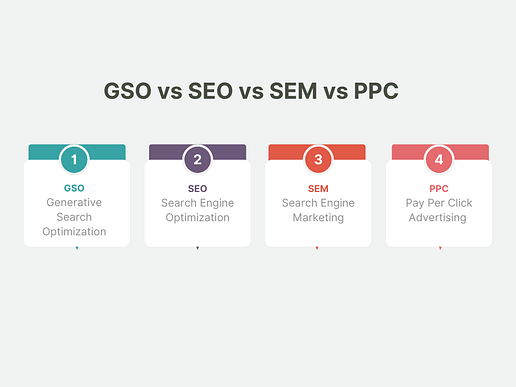 1. Nature of Optimization:
GSO: GSO leverages generative AI models to automatically create and optimize content in real-time. It adapts content based on changing search trends and user behavior, making it dynamic and responsive.
SEO: SEO primarily involves manual content creation and optimization based on keyword research and best practices. It's a static optimization process that requires periodic updates.
SEM: SEM encompasses both SEO and PPC. It involves optimizing for both organic search results and paid search advertising.
PPC: PPC focuses exclusively on paid advertising. Advertisers bid on specific keywords, and their ads appear when users search for those keywords. It doesn't involve organic content optimization.
2. Content Generation:
GSO: GSO automates content generation using AI, producing textual, visual, or video content tailored to search intent.
SEO: SEO relies on human-generated content, where writers create, edit, and optimize text, images, and videos manually.
SEM: SEM combines both automated content generation (SEO) and paid advertising content (PPC) within the same marketing strategy.
PPC: PPC doesn't generate content but involves creating and managing paid advertisements displayed when specific keywords are searched.
3. Real-time Adaptation:
GSO: GSO content adapts in real-time to shifting search trends, algorithm updates, and user intent.
SEO: SEO content requires manual updates and may not adapt as quickly to real-time changes.
SEM: SEM involves real-time adaptation for paid advertising (PPC) but may have slower adaptation for SEO components.
PPC: PPC campaigns can be adjusted in real-time to optimize ad performance, but this applies only to paid ads, not organic content.
4. Efficiency and Scalability:
GSO: GSO is highly efficient, especially for large volumes of content. Automation allows for scalability.
SEO: SEO can be labor-intensive, making it challenging to scale, particularly for websites with extensive content requirements.
SEM: SEM combines efficient paid advertising (PPC) with potentially less scalable SEO efforts.
PPC: PPC offers efficiency for paid advertising but does not address the scalability of organic content optimization.
5. Competitive Advantage:
GSO: GSO can provide a competitive edge by maintaining fresh and optimized content that attracts organic traffic and customers.
SEO: SEO aims to improve organic search rankings but may not respond as dynamically to competitive shifts.
SEM: SEM offers a competitive advantage by combining both organic and paid strategies to dominate search engine results pages (SERPs).
PPC: PPC provides a competitive advantage through targeted paid advertising but doesn't directly impact organic search rankings.
6. Cost Structure:
GSO: Costs may involve AI platform subscriptions and personnel for strategy development and monitoring.
SEO: Costs involve personnel, content creation, and SEO tool subscriptions.
SEM: Costs include SEO-related expenses and PPC advertising budgets.
PPC: Costs are primarily related to ad spend and management fees.
7. Reporting and Insights:
GSO: Provides insights into AI-driven content performance, user engagement, and SEO metrics.
SEO: Offers reporting on organic search rankings, traffic, and on-page metrics.
SEM: Combines reporting on organic and paid search performance for comprehensive insights.
PPC: Provides detailed reporting on paid ad performance, click-through rates, conversions, and ROI.
8. Learning Curve:
GSO: Requires learning AI fundamentals and generative models, which can have a steeper learning curve.
SEO: Involves learning SEO best practices, keyword research, and on-page optimization, which is more accessible to beginners.
SEM: Demands expertise in both SEO and PPC, making it suitable for those with a broader skill set.
PPC: Involves mastering the intricacies of paid advertising platforms and bidding strategies.
In summary, GSO introduces dynamic AI-driven content optimization, offering efficiency and real-time adaptation. SEO focuses on manual optimization, SEM combines organic and paid strategies, and PPC is dedicated to paid advertising. Each approach has its unique strengths and considerations, and businesses may choose to integrate them based on their goals and resources.
Does Google's Generative Search Impact eCommerce Product Discovery?
How to Rank Your Products on Google's Generative Search: A Guide for eCommerce